Here at the

Cinema Club

, it's pretty clear that we love Tim Roth. Since he's active on the Twitter, I figured it would be good to pay a weekly tribute to the British Sexy Saturday Alumnus.
I love this snarky mofugga.
So on the very first weekly Timmy Tuesday I would like to apologize for lying to you all in the last Newsies post, where I excitedly stated that Rothy has been nominated for an Academy Award. Err... not so much. Sorry to disappoint you folks, but he just voted. LE SIGH. I think the last time he was nominated was for his role as Archibald Cunningham in Rob Roy back in the 90's.
A powdered wig movie.
Then again I could be wrong. Because apparently I invent my own reality to suit my fancy. Isn't that what crazy people do? Well it is Tequila Week Reading Break, so I think that's a good enough excuse to be a little bit loony tunes.
Speaking of Loony Tunes, check out how Tim Roth catches the elevator: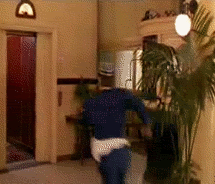 Like a Boss.
PS nice face.