So it's my Best Friend's birthday coming up and she had a special request for this week's Sexy Saturday. Of course I was willing to comply, and I know that a lot of you will agree that this week's SS is pretty darn cute! Ladies and Gents, I present to you:
Joseph Leonard Gordon-Levitt

as if his name wasn't already long enough...

was born on February 17th, 1981 (Hey, his Birthday is coming up!)
in LA. Fun Fact: His Family is Jewish.
Happy Hanukkah, girl.
Way back in the day, Levitt got his start doing commercials for Peanut Butter and Pop-Tarts. Really, and just when we thought those two things couldn't have possibly gotten any better!Though Levitt's acting really took of when he played Tommy Solomon in the hilarious TV show Third Rock From The Sun. That show is actually really hilarious, and Levitt's acting was awesome. My dad and I watch the show every Tuesday night, as TRFTS is the best way to end your day. I have included part one of one of the episodes, for your viewing pleasure:
Yes, that short little guy with the long hair is in fact Joseph Gordon-OMG your name is so annoying to type out- Levitt.
The information officer.
But of course we all know and recognize Levitt as the sexy/cute character he played in Inception. Ohhhh Arthur...!
If you are a straight female and you watched Inception, you know you wanted in Levitt's pants. If not, you had better start questioning your sexuality. Because seriously, ladies. This guy was the perfect hybrid between hot + cute and if you do the math you know that = sexy. In the movie Levitt played a smarty pants, and he happens to be a smart cookie in real life aswell. He attended Columbia University, where he studied a whole swack of stuff, from history to French Poetry. That's right, Ladies.... he speaks French.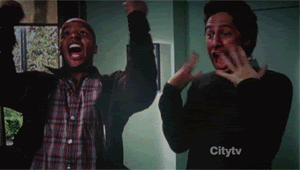 So now that you've all fainted/ squealed/ soiled your panties, let's talk about his filmography. Levitt has been in a number of movies, some of which include:
A River Runs Through It
Angels in the Outfield
10 Things I Hate About You
Treasure Planet
Brick
(500) Days of Summer
G.I. Joe: The Rise of Cobra
Inception
50/50
Smart? Talented? Cute? Sexy? Peanut butter and Pop-Tart commercials?
Oh yeah, he's great.
The only thing wrong with this photo is that his shirt is still on.
So here you have it, readers. Joseph Gordon-Levitt as this week's Sexy Saturday (and as much as I hate to say it): Just in time for Valentine's Day.