It's my favorite day of the week again! Timmy Tuesday! And if you say you dislike Timmy Tuesdays, this is all we have to say to you:
You! Yes, you. You sit on a THRONE OF LIES.
Today's Timmy Tuesday Topic (Holy T's!!!!) is

Guilty Confessions

. Because recently Timmy confessed to the world on the T

witter

that he has a guilty secret... The Movie Bridesmaids.
And here, dear readers, is the proof:
But it doesn't end there. He continues on with his confessions:
So meanwhile here at the

Cinema Club

, we're all inspired to talk about our

Guilty Secrets

aswell!
Usually when the opportunity to spill guilty secrets comes up, we go about the issue a bit like this:
I'll just be leaving now.....
But not today, my dear readers. Today we're going to let our dork flags fly and be loud and proud about the shit we like. I recently did this on Day 3 of the 30 Day Challenge, when I so boldly announced my love for Peewee Herman.
.....did you hear that loud stampeding sound?
.......that was the sound of all my future boyfriends running away.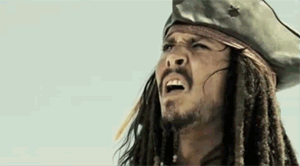 A Small List of the Canadian Puck Bunny's Guilty Confessions:
I absolutely love dinosaur fruitsnacks
Lilo & Stitch is one of my favorite movies
I have the Hamster Dance album on my iPod
If I had the choice between a boyfriend and a puppy I'd pick the puppy
Wow. that list pretty much concludes that I am actually 6 years old.
Though I have my mature guilty confessions aswell...
Right. So obviously I'm not the only one that has guilty secrets. Why, just now, a friend texted me: "Que Co
ño

"

which is NOT what he wanted to say, at all... (thanks to his Spanish speaking friend, he is now humiliated). Those of you who speak Spanish are laughing. For those of you who don't...
Suddenly it all makes sense.
A regular reader of the blog and a good friend of mine offered one of his guilty dorky pleasures to post on the blog:
The Iron Giant is his favorite movie. Not a lot of people are willing to admit that they have a love for animated films.
My She-Darling also offered up a confession for the sake of the blog. She says that The Princess Bride is her favorite movie ever. And let's admit, perhaps the Princess Bride is a wee bit dorky.
The moral of the story is this:
We all have silly, dorky things that we think should be secrets. But the truth is we shouldn't be ashamed of these things, they're what make us special and unique. And, of course:
Nobody is too cool to be a dork or be embarrassed.
God Bless Timmy Tuesdays
♥
And if anyone says otherwise, you must reply with: